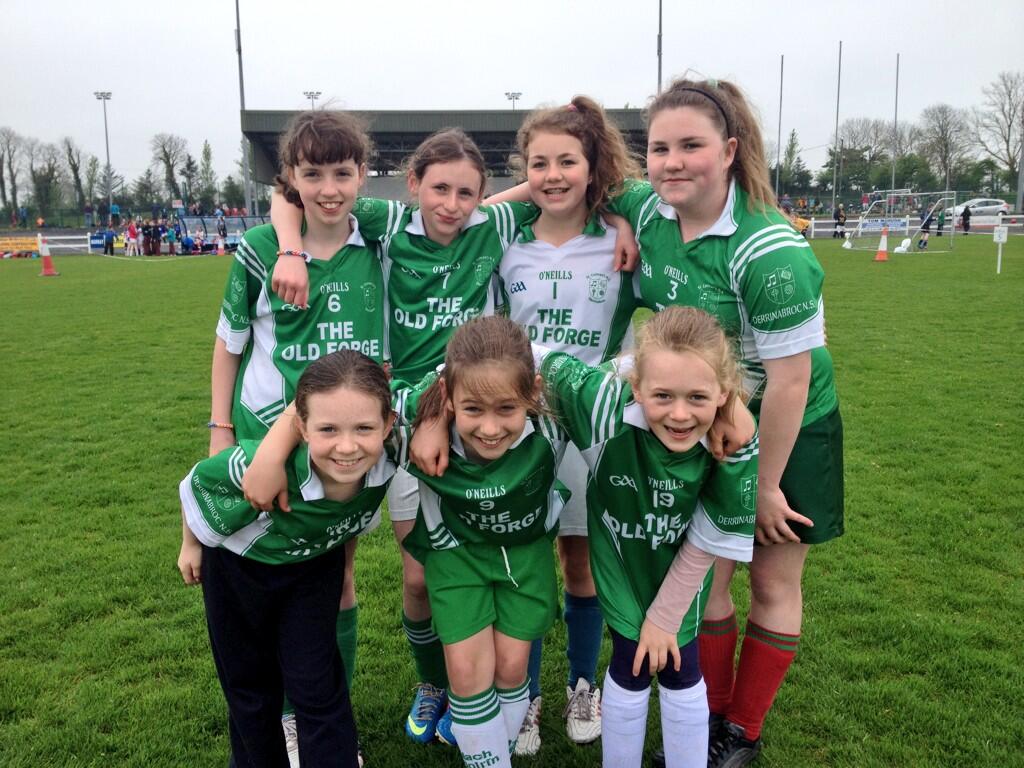 Friday the 2nd of May the senior classroom took part in a soccer blitz in Milebush Park in Castlebar. Every team played at least 2 group games. The boys drew their first game against Parke 2-2, but sadly lost their second game against Errew 1-0. The girls won their first match against Meelickmore 5-0, They also won their second match against Cloonlyon 6-1, so that meant they were through to the quarter-final against Errew which they won 5-0, but then sadly lost the semi-final in extra time against Kiltane 3-2.
By Erin and Elise Phillips.
Below a Timetable of Matches
All players should have runners and football boots for this day.
Friday 2nd of May 2014 Milebush, Castlebar.
Girls
Pitch 6

09:30:00

Group
Team 1
Team2

09:45:00

9

Errew

vs

Bohola

10:00:00

10

Derrinabroc

vs

Meelickmore

10:15:00

11

Killala

vs

Ballindine

10:30:00

9

Errew

vs

Keenagh

10:45:00

10

Derrinabroc

vs

Cloonlyon

11:00:00

11

Killala

vs

Rehins

11:15:00

9

Bohola

vs

Keenagh

11:30:00

10

Meelickmore

vs

Cloonlyon

11:45:00

11

Ballindine

vs

Rehins

12:00:00

Winner 9

vs

Winner 10

12:15:00

Winner 7/8

vs

Winner 11

12:30:00

Winner 9/10

vs

Winner 7/8/11
In the event of a tie groups will be decided by 1. Score of match between two team 2. Goal difference 3. Goals scored 4. Penalty shoot out 3 pens each
| | | |
| --- | --- | --- |
| | Group 10 | Group 11 |
| | Derrinabroc | Killala |
| | Meelickmore | Ballindine |
| | Cloonlyon | Rehins |
Boys
FRIDAY 2ND MAY
 Pitch 1
 Time
Group
 Team 1
 Team2
 Result

09:30:00

1

 Parke

 vs

 Errew

09:45:00

2

 Midfield

 vs

 Straide

10:00:00

3

 Kilkelly

 vs

 Bohola

10:15:00

4

 Carracastle

 vs

 Mulranny

10:30:00

1

 Parke

 vs

 Derrinabroc

10:45:00

2

 Midfield

 vs

 Cloondaff

11:00:00

3

 Kilkelly

 vs

 Ballindine

11:15:00

4

 Carracastle

 vs

 Killala

11:30:00

1

 Errew

 vs

 Derrinabroc

11:45:00

2

 Straide

 vs

 Cloondaff

12:00:00

3

 Bohola

 vs

 Ballindine

12:15:00

4

 Mulranny

 vs

 Killala

12:30:00

 Winner1

 vs

 Winner 2

12:45:00

 Winner 3

 vs

 Winner 4

13:00:00

 Winner 1/2

 vs

 Winner 3/4

13:15:00

 Winner 1234

 vs  

 Winner 5/6

13:30:00

Final
 Winner 1-6

 vs

 Winner 7/11
Group1
 Group 3
 Parke
 Kilkelly
 Errew
 Bohola
 Derrinabroc
 Ballindine
 Group2
 Group 4
 Midfield
 Carracastle
 Straide
 Mulranny
 Cloondaff
 Killala